2022 Holiday Card Contest
More than 350 Idaho public school students in kindergarten through sixth grade entered the State Department of Education's 2022 Holiday Card Contest.
West Ada third-grader Brynlee Parce of Spalding STEM Academy was voted as this year's overall contest winner and will be featured on the SDE's holiday cards.
"Brynlee's submission featuring the Northern Lights immediately caught our eye, and it was no surprise to see that after two intense rounds of voting, her amazing holiday scene came out on top," Superintendent of Public Instruction Sherri Ybarra said. "Choosing from so many incredible entries is always one of our favorite challenges of the year
Winners were selected for each grade level, and the outpouring of colorful, imaginative art made it very difficult – although fun – for judges to narrow the field to just seven winners to grace the State Department of Education website.
2022 Holiday Card Contest Winners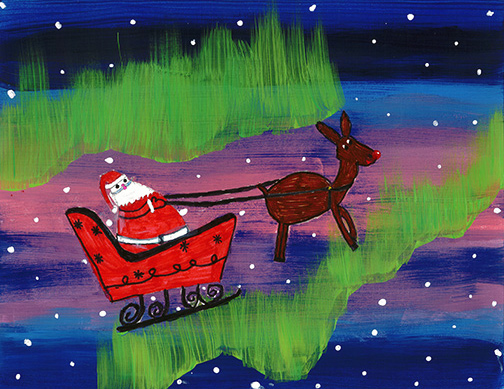 OVERALL WINNER
Brynlee Parce
3rd Grade
Spalding STEM Academy
West Ada School District
6th GRADE WINNER
Christopher Crouch
Victory Middle School
West Ada School District
5th GRADE WINNER
Kate Cole
Orchards Elementary
Lewiston School District
4th GRADE WINNER
Michelle Dotson
Webster Elementary
Lewiston School District
---
2nd GRADE WINNER
Beckett Tucker
Barbara Morgan Stem Academy
West Ada School District
1st GRADE WINNER
Edmund Oberhansley
Jefferson Elementary
Jefferson Joint School District 251
KINDERGARTEN WINNER
Sawyer Thill
AB McDonald Elementary
Moscow School District
---