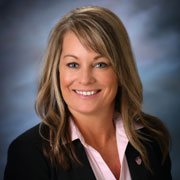 Sherri Ybarra
Superintendent of Public Instruction
Idaho education is in transition, but commitment and ingenuity remain strong.
As the state of Idaho slowly emerges from its 'stay home' order, this is still an uncertain time for Idahoans, and all Americans. But one certainty is our commitment to helping schools and students succeed – and stay safe.
If anything, that commitment throughout Idaho's K-12 system has strengthened during this pandemic crisis. Teachers and administrators throughout the state work tirelessly to maintain continuity of learning as best they can and come up with new ways to provide essential services, convey information and give students the personal connection so essential to learning. Parents throughout the state did an amazing job helping with at-home schooling while juggling their own jobs and family responsibilities.
Summer learning has never been more important than it is this year, and I urge parents and students to read, explore ideas and make use of available courses and educational games. The State Department of Education offers a wealth of online resources for parents and educators, from broadband providers to the Khan Academy, updated frequently and collected at two online sites maintained by the SDE: the school resources page of the governor's Idaho coronavirus website, and our Educational Resources for Parents & Educators page.
At the SDE, we work closely with districts, charter schools, stakeholders and other agencies to help navigate the soft closure and prepare for the coming year. And we're working to develop a statewide, opt-in learning management system (LMS) so that small rural districts aren't operating at a disadvantage in a distance-learning environment. We need to be ready if Idaho faces a resurgence of Covid-19 in the fall.
As we move through the stages of reopening and enjoy increasing options for activity and gatherings, I join Gov. Little in urging Idahoans to comply with the governor's 'Stay Healthy' guidelines, including social distancing and wearing a mask in public, particularly when the circumstance places you closer than 6 feet from other people.
I'm continually impressed with how Idahoans are weathering this storm, and I know the strength and innovation of this time will serve us well in the future.
U.S. Department of Education Releases Second Volume of K-12 COVID-19 Handbook
The U.S. Department of Education released the second volume of its K-12 COVID-Handbook. This handbook provides additional strategies for safely reopening all of America's schools and promoting educational equity by addressing opportunity gaps that have been exacerbated by the pandemic.
Sincerely,

Sherri A. Ybarra, Ed.S.
Superintendent of Public Instruction
---