Superintendent of Public Instruction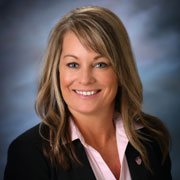 In my heart, I'll always be a third grade teacher. Education was my calling then, as it is today, because I know education is the key that unlocks the doors of opportunity for all children.
While I miss being in a classroom and the immediate sense of accomplishment earned from engaging kids to learn, I've been grateful to serve as your Superintendent of Public Instruction since 2015. I'm also thankful to work with an amazing team of committed and kindhearted educators and support staff at every level of education in our state. Together with engaged parents, we continue the essential work of supporting our schools and students to achieve.
Every school day nearly 20,000 dedicated Idaho teachers do their best to ensure our students are prepared to persevere in life and succeed in college and career. They're doing a great job, and the results of our teachers' exceptional work is backed up by reliable data. Even greater achievement is on the horizon as Idaho moves toward an educational system where student progress is based upon mastery of competencies and content, not seat time or the student's age or grade level.
For the more than 307,000 Idaho kids, there are caring adults in their classrooms, at their school district offices, serving on local elected school boards and working at the Idaho State Department of Education who understand we are all mutually responsible for student progress. Accountability, I'm proud to report, is an important part of Idaho's education system. We even publish report cards for all public schools in the state!
We're also making immense strides to ensure Idaho attracts and retains great teachers and leaders. Idaho's Career Ladder has improved teacher pay, and our schools are becoming more competitive at recruiting and retaining highly qualified educators. This effort is advanced by the strong relationships and cooperation with the Governor, Idaho Legislature and State Board of Education. We also work hard to involve parents and other community members in education, hearing and implementing their ideas. Together, we're partners in education.
Our 16th President, Abraham Lincoln, a man who understood the connection between perseverance and success, is credited with saying, "the best way to predict the future is to create it." Let's predict an amazing future for our kids, provide them the best education we can and help them gain experiences relevant to a 21st century economy. This is how we work together to support students to achieve their dreams and realize their full potential.
Thank you for supporting Idaho's public schools.

Sherri Ybarra, Ed.S.
Superintendent of Public Instruction
Opinions and Responses