Idaho's Consolidated Plan
All states must submit a Consolidated Plan to the U.S. Department of Education in order to receive funding for disadvantaged students. The State Department of Education is committed to developing a plan that reflects the priorities and needs of the students and educators of Idaho.
Idaho's Consolidated Plan describes how the state will use its allocated federal funds to support districts and schools serving disadvantaged children, including how the State Department of Education will help improve Idaho's lowest performing schools. The State Department of Education receives about $82 million in federal support tied to ESSA, compared with $1.68 billion from the state's general fund. Idaho's plan, if approved by the U.S. Department of Education, would take effect in the 2017-18 school year.
Idaho's Consolidated Plan was approved by the State Board of Education on August 10, 2017. The plan has been sent to Governor Otter for review and will be submitted to the U.S. Department of Education on or before September 18, 2017. The U.S. Department of Education has 120 days to provide feedback on our plan, at which point SDE and the Board will have 15 days to respond. This page will continue to be updated with new information.
Idaho's Consolidated State Plan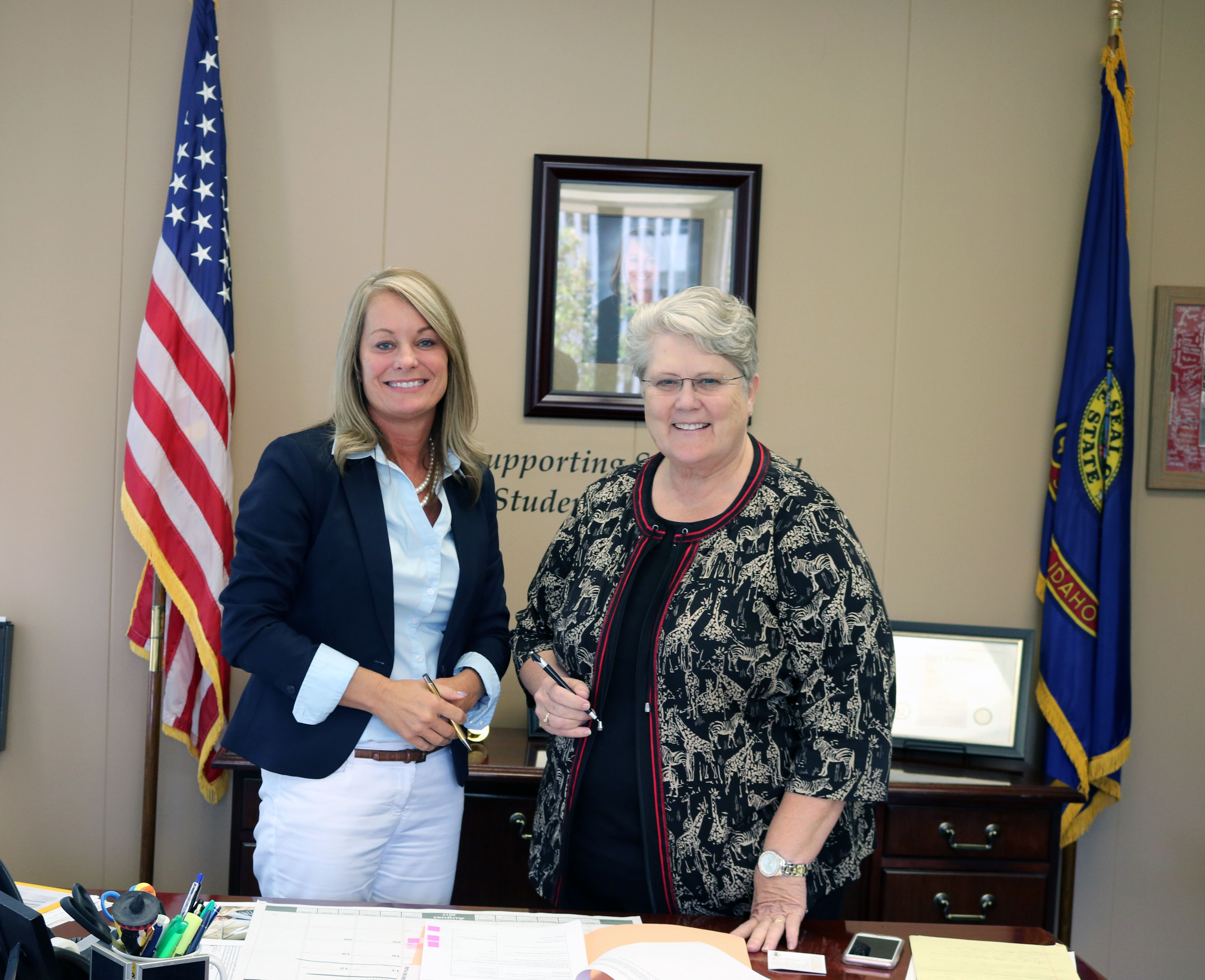 Superintendent of Public Instruction Sherri Ybarra and State Board of Education President Linda Clark signed the state's federal Consolidated Plan Wednesday, August 16, 2017 and provided a copy to Governor Butch Otter to review. The plan was approved by the State Board of Education August 10 and will be submitted to the U.S. Department of Education in September. The plan is an application for federal funds to serve disadvantaged students and also describes the state's new accountability system.


During Governor Otter's 30-day review period, the U.S. Department of Education provided guidance that Idaho must create a version of its consolidated plan that meets federal Office of Civil Rights accessibility requirements. The accessible version of Idaho's consolidated plan was submitted to the U.S. Department of Education for approval. While the accessible version of the plan contains cosmetic differences from the version signed by Superintendent Ybarra, Board President Clark, and Governor Otter, the content is identical. Please see below for the original, non-Office of Civil Rights compliant version of the plan.
Previous drafts of the consolidated plan can be found in the Archives.
To review the feedback received via the SDE's online comment form, refer to our ESSA Public Comment Responses document.
---
About Idaho's Accountability Plan
Formed in 2016, the Accountability Oversight Committee, a committee of the State Board of Education, has been working to develop Idaho's Accountability Framework that will be used to give a complete picture of school progress. In the 2017 legislative session, the legislature approved the removal of Idaho's prior five-star accountability rating system from statute and added new rules aligned with the Accountability Framework. The State Board of Education will be making further clarifications to these rules this year.
Accountability Oversight Committee members
---
Idaho's Consolidated Plan Goals
Under the Every Student Succeeds Act (ESSA) each state is required to submit a State Plan articulating how the law will be implemented. The Idaho State Department of Education (SDE), under the direction of Superintendent Ybarra, is committed to developing a thoughtful consolidated State Plan that reflects both the new ESSA requirements and SDE's strategic plan goals in supporting schools and students to achieve. 
ESSA was signed into law on December 10, 2015. This new law replaces the No Child Left Behind Act (NCLB, 2002) and reauthorizes the Elementary and Secondary Education Act (ESEA, 1965).
Idaho's Consolidated Plan goals are:
All Idaho students persevere in life and are ready for college and careers;
All education stakeholders in Idaho are mutually responsible for accountability and student progress;
Idaho attracts and retains great teachers and leaders.
Developing the State Plan requires meaningful consultation with stakeholders representing a diverse cross-section of district and school representatives, professional organization representatives, and state leadership members.
Components and Workgroups
The State Plan work is developed within the ESSA Framework Components by multiple SDE workgroups, each with external stakeholder representation. The components are listed below in the order they appear in the Federal Register.