Superintendent of Public Instruction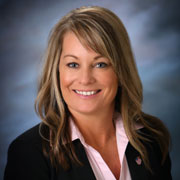 I am humbled and honored to serve Idahoans as Superintendent of Public Instruction. Education has always been my focus and passion. With nearly 20 years of experience in all phases of education — from classroom teacher, to principal, and at the administrative level, I am keenly aware of the challenges facing educating our youth today.
We must work to make our students' lives better. Let's build upon success. Let's build upon Idaho's excellent schools, and renew our long standing commitment to helping schools and students flourish. Coming from the heart of education, I understand the importance of service, compassion, kindness, and most importantly how much a quality education ensures a bright economy and future for all of Idaho's children. That is why our new vision: Supporting schools and students to achieve, will be the foundation for everything we do. That vision will help to renew our enthusiasm for education in Idaho public schools.
At the state level we will help to distribute, inform, and clarify state and federal policies and laws. The Idaho Department of Education is dedicated to serving and providing common-sense leadership, support, and resources to educators across the state, to help reinforce higher standards for academic excellence for our students in the 21st century.
Thank you for your support of Idaho public schools.

Sherri Ybarra, Ed.S.
Superintendent of Public Instruction