Idaho Mastery Education is a student-centered learning system, codified in Idaho law, that promotes relevant learning while allowing flexibility in both time and teaching methods, where student success is the only option.
---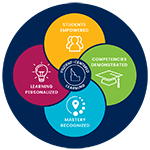 Mastery Framework: Feedback Requested
Simple, yet comprehensive, this statute-based document, summarizes and provides a foundation for Mastery-based education in a single page. Developed to inform parents, the general public, and policy makers, it also guides educators in their classroom and building practices. Please send questions, comments, and feedback on the Mastery Framework to Aaron McKinnon at amckinnon@sde.idaho.gov or 208-332-6952.
HIGHLIGHTS
Student-Centered Learning Through Mastery
Student-centered learning is the process central to implementing the Idaho Mastery Education system. Across Idaho, teachers and schools are adopting a variety of approaches aimed at the shared goals of ensuring that our students achieve at higher levels and gain the knowledge and skills they need through student-centered learning, more meaningful interaction with teachers, and an optimal learning pace.
Student-centered learning:
Promotes high-quality standards, equipping students with the skills they need to succeed in the workforce.
Empowers students to shape learning experiences that reflect their emerging sense of self and align with their interests and needs.
Enables students to build relationships, make well-informed decisions, and create strong connections across their learning experiences.
Ensures that ideas and theories from the classroom connect to students' lived experiences and interests in their communities.
Mastery education gives students the chance to use meaningful content in ways that encourage deeper levels of learning so they acquire the knowledge, skills, and characteristics essential for success in a future we can only imagine. When students demonstrate that they are proficient under rigorous expectations, they take greater ownership and responsibility for learning. This helps educators and students eliminate false assumptions about learning that are associated with points, percentages, and grades.
Preparing Students for Success in Careers, College & Life
By working to ensure that students graduate high school with the skills and knowledge required by post-secondary education and the workplace, Idaho's Mastery Education teachers are also addressing one of Idaho's biggest and most intractable challenges—getting more of our students to "go on" to post-secondary education and training.
---
---
Frequently Asked Questions
Information for Parents
Information for Educators
Training Resources