ISAT Comprehensive Assessment System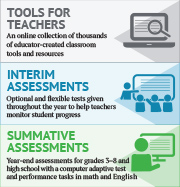 The Idaho Standards Achievement Test (ISAT) Comprehensive Assessment System consists of a Digital Library for Formative Assessment which provides resources for teachers to use to help improve student learning; Interim Assessments which are optional tests given during the school year to help monitor student progress; and the year-end Summative Assessment. Each of these are part of a coherent and comprehensive system of assessment designed to be used together to improve teaching and learning.
---
Formative assessment is a process used by teachers that provides actionable feedback to adjust teaching and learning strategies for improving student self-assessment, reflection, and attainment of curricular learning goals.
The Digital Library is a critical component of the Smarter Balanced system of assessment and provides formative instructional resources, tools, and professional learning opportunities for educators. The Digital Library Connections Playlists align classroom resources with Interim Assessment Block performance levels, thus tying together all components of the system.
State Leadership Team and State Network of Educators
The Idaho State Leadership Team oversee state input on the Digital Library and provides training, support, and guidance to the State Network of Educators. The State Network of Educators provided feedback on the resources to be included in the Smarter Balanced Digital Library from all member states. They took part in professional development workshops on formative assessment and the Digital Library, and used an established Quality Criteria framework to submit and review resources.
The Digital Library provides nearly 3000 instructional resources that are aligned to the standards, and can be integrated into daily classroom teaching. These tasks and activities are used formatively to gauge day to day understanding along a learning continuum. They contribute evidence that students are on a path to end of year mastery.
An Interim Assessment is an assessment generally administered 2-6 times per year outside of instruction to evaluate student knowledge and skills. The results of these assessments help educators understand student progress and form goals within the classroom to help students achieve academic success.
Why Interim Assessments?
The Smarter Balanced ISAT Interim Assessments in Mathematics and English Language Arts (ELA)/Literacy complement the Smarter Balanced Summative Assessment System by:
Providing meaningful information to help determine student progress toward mastery of the Idaho Content Standards as measured by the ISAT Summative Assessment
Serving as an efficient source of items and performance tasks for assessing the Idaho Content Standards at strategic points during the school year
Yielding data on student skills and understanding in relevant areas of interest
Supporting teaching and learning by providing data that will inform instruction
The non-secure items and tasks in the ISAT Interim Assessment System are developed under the same conditions, protocols, and review procedures as those used in the ISAT Summative Assessment. They assess the same Idaho Standards, adhere to the same principles of universal design to be accessible to all students, and provide evidence to support claims in Mathematics and ELA.
The application of evidence-centered design (ECD) helps ensure that each item or task clearly produces student responses that support the evidence statements and are aligned to the claims and standards. This linkage of items and tasks to claims through evidence statements underscores the strength of the chain that ties assessment results to the claims.
Online Components
The ISAT Interim Assessment System contains two distinct online components that draw from the same non-secure bank of items and performance tasks:
Interim Comprehensive Assessments (ICA) use the same blueprint as the ISAT Summative Assessments. They assess the same wide range of standards, are administered with the same computer-adaptive process, include the same types of items and performance tasks, and report results on the same vertical scale.
Interim Assessment Blocks (IABs) focus on smaller sets of standards in relation to the Comprehensive Interim and therefore provide more targeted information for instructional purposes. Teachers can combine multiple IAB assessments to provide more complete coverage of specific content and/or skills. The IABs will be administered with a computer-adaptive system as the item bank supports.
Most items are scored by the Smarter Balanced test-delivery engine. The scoring of human-scored aspects of constructed-response items and performance tasks is a local or state responsibility. Both provide results that teachers and administrators can examine in relation to the Idaho Content Standards and then adjust instruction accordingly.
The Smarter Balanced Digital Library offers guidance on how and when to use each type of assessment, how to evaluate students' responses, and how to interpret results. The full range of capabilities that are ultimately offered by the ISAT Interim Assessment System will depend on the ability to fully engage the computer-adaptive technology and ongoing enhancements of the system's technology.
In the initial phase, schools and districts can use both the Interim Comprehensive Assessment and the Interim Assessment Blocks.
Each year, students in grades 3-8 and once in high school take the Idaho Standards Achievement Test (ISAT) to determine whether they have achieved the standards for their grade level and subject area. There are tests for English Language Arts/Literacy and Mathematics. In grades 5, 8 and 11, students also take the ISAT science assessment.
These tests are administered to provide ongoing monitoring of individual, school, district, and state progress. Academic proficiency is more than scores. Competency in all academic areas is the goal for every child. This once a year (summative) test is an important component of the statewide student assessment system as stated in IDAPA 08.02.03.111.06.
The ISAT items address a variety of skill levels, from short-term recall to skills and problem solving. The ISAT summative assessment is administered during the last 8 weeks of the school. It consists of two parts: a computer-adaptive test and performance tasks that are given on the computer.
The Assessment Main Objectives:
To give an indication of both student achievement and growth of student learning as part of program evaluation and school, district, and the state accountability system
To provide a valid, reliable, and fair measures of students' progress toward, and the attainment of the knowledge and skills required to be college and career ready
To capitalize on the strengths of computer-adaptive testing — efficient and precise measurement across the full range of achievement with quick turnaround of results
Contact your District Test Coordinator, if you need an account to access the portals.
---
HIGHLIGHTS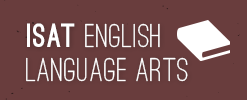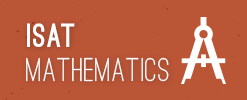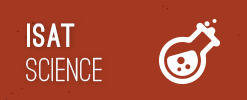 ---
ISAT Score Reports*
When your school district provides you with your student's score report for the 2019 ISAT, you may have questions about what the scores mean, how they are used, and where you can find relevant educational resources.
Below are documents to assist you as you review and discuss your student's performance:
Each school district will provide the score report within three weeks of obtaining all scores for their district. Parents and families throughout Idaho may receive this information at slightly different times. For additional information, please refer to the Resource Tabs below.
*Note: If you have questions about your individual student's score report, contact your local school district.
---
Resource Files
Digital Library for Formative Assessment
Interim Assessments
Summative Assessment
Frequently Asked Questions
Training Resources
Professional Development
Digital Library for Formative Assessment
Resource Links
State Department of Education
General Links
Summative Assessments